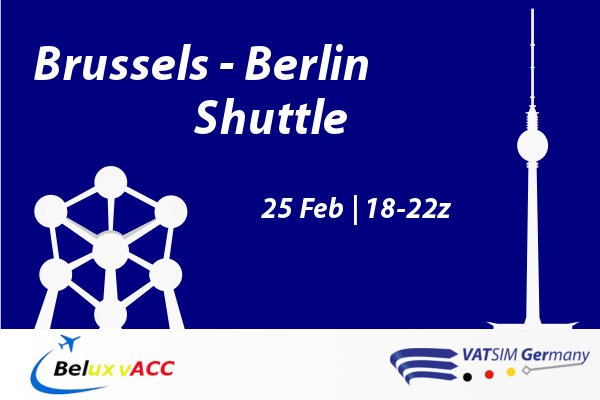 Belux vACC
and
VATSIM Germany
would like to invite all pilots to our Brussels-Berlin Shuttle.
Brussels (EBBR)
and
Berlin Tegel (EDDT)
will be fully staffed on
25 February between 1800z and 2200z.
Come join us for this lovely Sunday evening. One-way flight duration is around 1 hour which gives you the oppertunity to fly both legs.
Routes
EDDT-EBBR: BRANE Q201 POVEL UM994 EXOBA UZ717 ABAMI T884 AGENI T855 BATTY (FL280-340, even)
EBBR-EDDT: SPI UY862 PODEN Y862 KENUM UZ907 ELDAR Z727 ANAVI DCT BATEL (FL270-350, odd)
EBBR Charts, Procedures and Scenery
EDDT Charts and Scenery